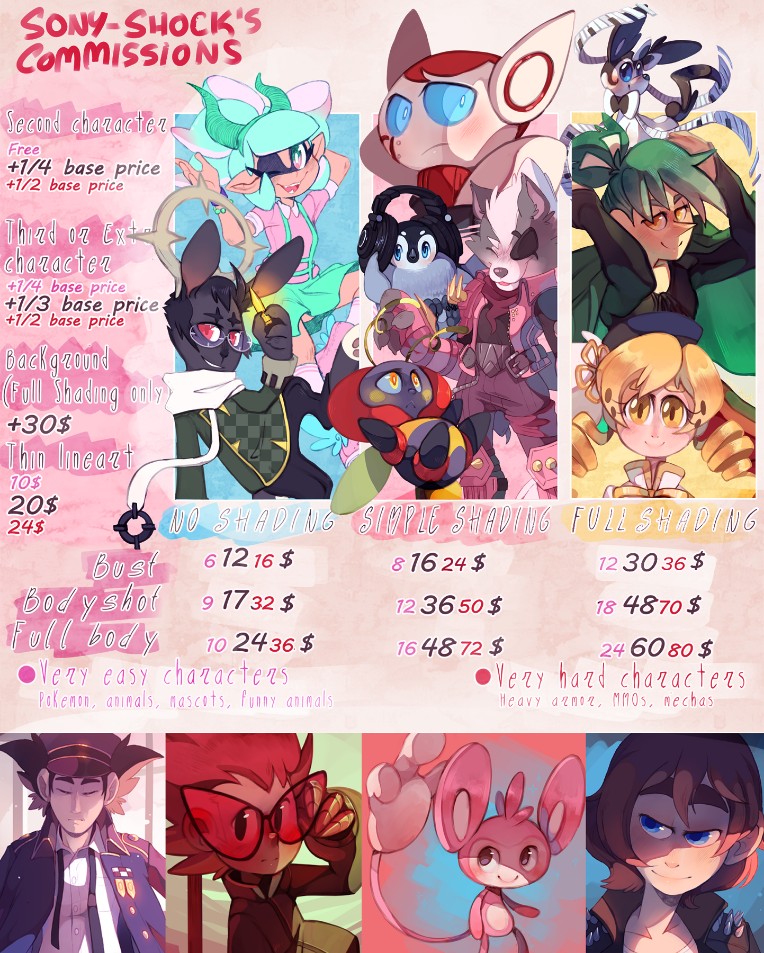 Coloring of lineart given by the commissioner 
Simple colors-12$
Full colors-25$
Full colors with background- 50$
Speedpaint video 10$ 
I can record and render a speedpaint video (HD formatting, mp4) of your commission and send it to you or post it on my youtube channel (fetish and nsfw art does not count, however)
Alternative versions of commissions will increase the price by either none, ¼ or 1/3 of the base price depending on the difficulty or quantity. Those are some examples:
Always free- Coloring, transparent versions, different sizes, cropped versions
Free unless they are a lot- Expressions, gestures, small body parts, fluids, overlaid items or held items, accessories
¼-Partial body clothes, limbs
1/3-Clothing sets.Clothes that coer at least all of the torso and part of the legs. 
❀SLOTS❀
10 slots are open each month. With the month's 1st reserved to Patreons only
The priority with getting slots applies when both a patron and a non-patron request at the same time, so non-patrons will not get their slot cancelled once it's been obtained.
Slots are not applied to free art patron rewards!
❀SCHEDULE❀
I take free days every Wednesday and Sunday, working every other day
❀RULES❀
Very basic characters like small animals or mascots won't be considered extras. Same with details such as flowers, staffs or small furniture.
Payment will be via paypal invoice.
When deciding the details of your piece, do not fear on giving away any background story or psychological aspects. I appreciate those.
NSFW is allowed. Some subjects, however, might be rejected. (Deciptions of real life people without consent and minors are never accepted)
Delivery will be by email unless otherwise specified.